Sometime in New York City - John Lennon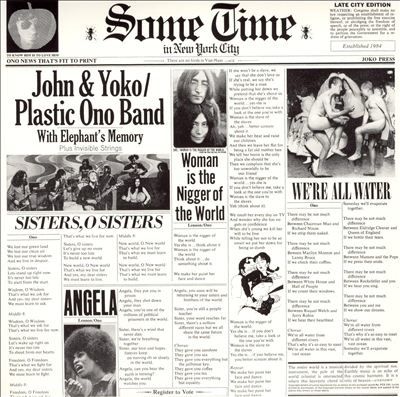 Quando John & Yoko resolveram se mudar para NYC, porque era a "capital do Mundo" (lembrem que isso foi antes da "Globalização"), a America ainda era um lugar onde todos se imaginavam defensores do "mundo livre". Logo nenhum outro lugar poderia conter o casal que pensava ser os defensores da "Paz Mundial". Isso era de uma incoerência brutal quando 2 anos antes o mesmo John Lennon havia dito que o "sonho" havia acabado. É claro que ele era instigado pela Yoko. Eu não tenho muita certeza se esse "posicionamento político" do John era porque ele realmente acreditava naquilo ou se ele queria o visto de permanência nos EUA. O disco está cheio de músicas que nos mostram o quanto ele era "consciente e engajado" pela causa dos fracos e oprimidos. Tem música defendendo John Sinclair que fora preso por porte de marijuana, Angela Davis pela causa negra, pelo feminismo e etc e tal. A capa do disco é uma primeira página de um jornal intitulado "Some Time - in New York City" e mostra o então presidente Nixon dançando com o Mao Tse-tung, ambos nús. Isso tudo começou a partir de Setembro de 1971 quando o casal se mudou para a cidade, em Janeiro o FBI estava os investigando pois achava que os jovens votantes americanos, através da influência e "militância"de John & Yoko, poderiam comprometer a reeleição do presidente. No disco há uma mescla de músicas do John e da Yoko e, se na época, já eram uma mensagem duvidosa, atualmente são simplesmente referencias históricas. O álbum duplo contem um concerto da dupla em 1969 com Eric Clapton, Delaney & Bonnie & Friends (imagino que vocês saibam quem eram) e outro concerto em 1971 com Frank Zappa, sendo que essa gravação o Zappa classificou como "pobremente mixada". Musicalmente falando, resta a música "Woman is the nigger of the world". Música pode ser usada politicamente mas não é política. Quem muito se acha acaba se perdendo.
Lançado em Junho de 1972
Lado A
1) Woman is the nigger of the world
2) Sisters O Sisters
3) Attica State
4) Born in a prison
5) New York City
Lado B
1) Sunday Bloody Sunday
2) The luck of the Irish
3) John Sinclair
4) Angela
5) We're all water
Lado C
1) Cold Turkey
2) Don't worry Kyoko
Lado D
1) Well baby (please don't go)
2) Jamrag
3) Scumbag
4) Aü
P.S.: quem aparece dentro da maça no lado superior esquerdo da capa é o Phil Spector que produziu o disco.