Tonmeister e a arte da masterização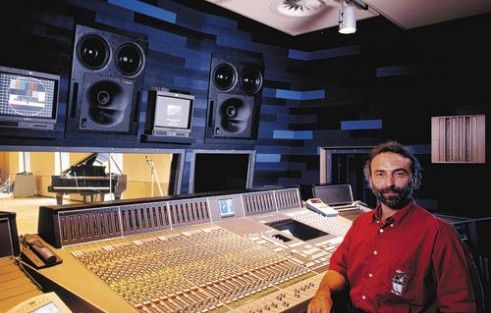 "Take a sad song and make it better"
Tenho trocado ideias com meus pares em diversos foruns sobre a eterna discussão da "cópia fiel" de um disco qualquer. Mas é sobre o processo de masterização que eu gostaria de colocar algumas questões e fatos. É mais aceitável e compreensível o papel do produtor quando, muitas vezes, ele dirige o processo criativo dentro ou fora do estúdio ditando até como os instrumentos devem ser tocados (vide os disco produzidos pelo David Bowie e pelo Brian Eno). Mais insidioso é o trabalho do engenheiro que faz a masterização. De posse da fita "original" ele vai fazer as adequações necessárias para a mídia a que se destina, LP ou CD ou DVD (os formatos de "arquivo" são subprodutos). Na masterização pode-se alterar (e muito) o resultado final, aquilo que ouvimos. Sabemos que existem pressões de marketing que levaram à exageros como a "Loudness War", mas não sei precisar se isso ainda acontece. Porém o que acontece, na maioria das vezes, é que a música é modificada (segundo o gosto do engenheiro) de alguma maneira durante o processo de masterização.
O conceituado engenheiro Bob Ludwig comentou o seu trabalho de masterização do album em cd "Trance-Fusion" do Frank Zappa e o próprio Zappa agradece ao BL "for writing this kind words". O texto integral está no final do post mas eu quero enfatizar alguns aspectos. Fica bem claro que se ele pudesse, remixaria o material e que "trabalhou muito" para "revelar os detalhes da gravação". Não sei se o Zappa estava presente durante a masterização ou deixou por conta do sr. Ludwig mas também fica claro que o Zappa aprovou o resultado. Ora isso nos leva diretamente à questão da diferenças das prensagens. Com ou sem aprovação do artista os discos são levados ao mercado com um pouco do gosto musical de quem fez a masterização. Como ao longo dos anos ocorre diversas masterizações por engenheiros diferentes, os discos são diferentes. Culturalmente a Europa, sendo um pouco mais formal e precisa, criou o que se denomina (pelo menos em Europa) Tonmeister. Todos sabem o que é um mestre-cervejeiro? Muito bem, o Tonmeister é o mestre-do-som. Em 1946 o compositor alemão Arnold Schoenberg escreveu para a Universidade de Chicago sugerindo a criação de um curso que formasse um "soundman" o qual "will be trained in music, acoustics, physics, mechanics and related fields to a degree enabling them to control and improve the sonority of recordings, radio broadcasts and sound films". O mestre da dodecafonia, que fugiu para a America escapando do regime do Terceiro Reich que o condenara por compor "música degenerada", passou para um técnico a função e responsabilidade de "controlar e melhorar a sonoridade das gravações". Não sei como soavam as gravações naquela época mas, segundo o mestre, eram "descontroladas" e precisavam ter a sonoridade "melhorada". Naquele mesmo ano uma universidade alemã estava oferecendo o curso de "Tonmeister". Pode existir várias prensagens diferentes de um mesmo disco mas no final das contas, só existe dois tipos de música, a boa e a ruim.
***
Este texto, do Bob Ludwig se encontra na capa do cd "Trance-Fusion" do Frank Zappa:
"It was a thrill for me to work on Maestro Zappa's music again. I last worked with Frank in early 1979 cutting the original vinyl & cassette release of Sheik Yerbouti and this memory was with me the entire time I was mastering Trance-Fusion. I had to work with a previously assembled and "pre-mastered" version of this recording because it is all that existed. With no possibility of remixing, it was fun to deal with all the mix problems in the mastering stage. Tom-tom fills would suddenly leap out of the mix taking over everything around them! Occasionaly some really interesting music was very clouded sounding and needed a lot of work to bring out the details. I worked hard to bring out all the musicality that was inherent in the stereo masters. I hope you enjoy this collection of some of the most staggering guitar playing the world has ever heard as much as I did working on it".