Tarkus - Emerson, Lake & Palmer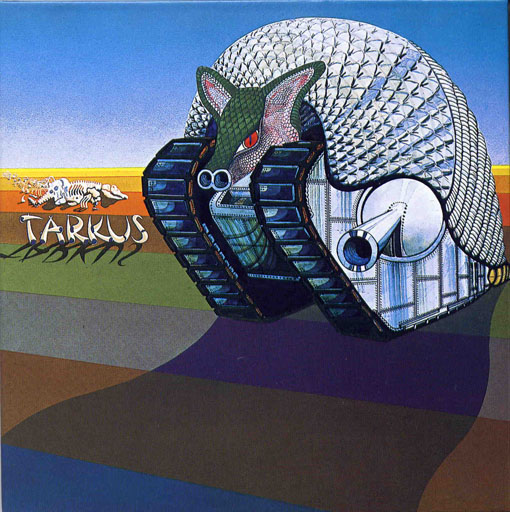 Lendo um post sobre o último disco "Clockwork Angels" do Rush (que tentou fazer progrock) no forum do Steve Hoffman encontrei, para minha surpresa (acho que sou muito ingênuo) uma reclamação de um fan perguntado onde estavam as melodias do album. Das origens do rock progressivo até o pós-rock (?) quantas gerações se passaram ? Em eras priscas as gerações eram contadas em anos, agora me parece que isso está ligado ao uso da tecnologia. Minha primeira experiência com um artefato tecnológico (naqueles dias não existia o que hoje entendemos como "dispositivo") foi uma máquina de calcular que era proibida em sala de aula pois "o cérebro ficava preguiçoso". E fica mesmo. Hoje as pessoas usam uma série de gadgets tecnológicos mais a internet que veio para facilitar nossas vidas (é o que dizem). Será que o uso alucinado e desenfreado desta tecnologia tenha afastado as pessoas do progrock ? Talvez isso explique a pergunta do moço, "onde está a melodia"? Imagino que na lógica dele a música "precisa" ter um formato definido para ser compreendida como tal, e este formato inclui "melodia". Simples assim. Creio que ele nunca tenha ouvido algo mais, digamos, elaborado. A Geração X é assim. Tive a curiosidade de ouvir o disco do Rush e acabei encontrando a "melodia" em meio a música (que é muito boa). Isso tudo me lembrou do "Tarkus" do ELP como um exemplo da perplexidade do fan do Rush: onde está a melodia? Talvez quando éramos adolescentes a vida nos fosse menos urgente pois conseguíamos sentar em frente ao equipamento de som e ouvir discos por horas seguidas (ainda faço isso porque gosto muito de ouvir música). Existem escritores (como o Guimarães Rosa e o Yukio Mishima, por exemplo) que nos exigem atenção total caso contrário o texto não se transforma em idéias. Da mesma maneira existe música (sem melodia) que exige muita atenção. O "Tarkus" não nos apresenta uma música muito complexa mas é preciso dar a devida atenção. Como dizia a outra, "atrás do porto tem uma cidade".
Lançado em Junho de 1971.
Lado A
1) Tarkus
i) Eruption
ii) Stones of years
iii) Iconoclast
iv) Mass
v) Manticore
vi) Battlefield
vii) Aquatarkus
Lado B
1) Jeremy Bender
2) Bitches Crystal
3) The only way (Hymn)
4) Infinite Space (conclusion)
5) A time and a place
6) Are you ready Eddy? .