Esta é a capa aberta: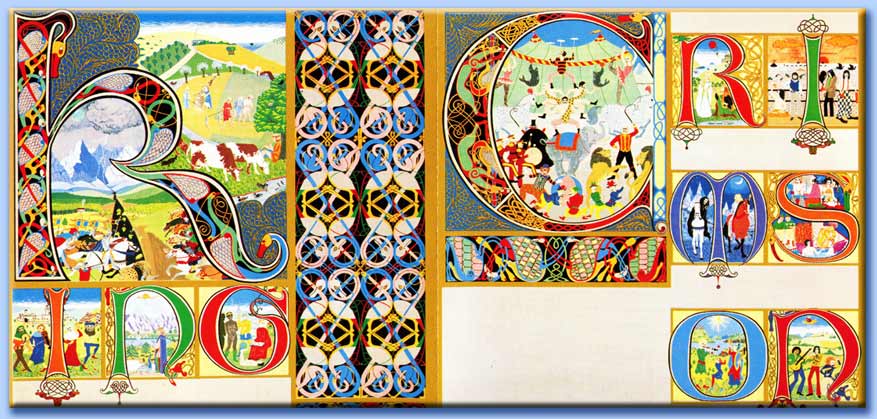 "Overall, the album is unlistenable. Our remastering shows just how unlistenable. I am unable to recommend that anyone part with their hard-earned pay for this one, unless they want to take it to parties and play it at unwelcome guests. There are some "Lizard" lovers, I know. They must be very strange" (Robert Fripp Diary 8/9/99)
Este foi um das "revisões" dos anos 70. Explico. Quando "descobri" o KC me abateu uma fúria de ouvir os outros discos que não haviam sido lançados aqui, este era um deles. Novamente meu amigo carioca me brindou com uma audição de uma cópia americana. Essas sessões sempre eram muito educativas pois eu sentia nos ouvidos o quanto estávamos distantes, não do dito "primeiro mundo", mas do mundo mesmo. Ainda bem que existiam esses "buracos negros" (a "Modern Sound" no Rio e o "Museu do Disco" em São Paulo, entre outras) que nos ligavam ao hemisfério norte. Pois então, ouvi o disco e ficamos calados com o mellotron reverberando em nossos cérebros. Ouvir rock naqueles dias era uma experiência suprasensorial. Ao sair do êxtase só me restou dizer "uau"! Apesar da aparente falta de rumo (estrutura da composição) o album transpira o esforço do Fripp em trazer um unidade ao album. Gostei do disco e vim a comprá-lo alguns anos depois dessa primeira audição (devo ter comprado o disco em 76 ou 77). Em 2009 aconteceu a reprensagem deste disco "mexido". O Fripp fez algumas "alterações" nos masters dizendo que somente agora, devido ao desenvolvimento tecnológico, o disco sairia do jeito que ele queria ("although audiophile concerns are incapable of satisfaction"). Ele substituiu o Haskell pelo Tony Levin ! As modificações são fáceis de perceber, virou outro disco. Não tive ainda a oportunidade de ouvir mais cuidadosamente este "novo Lizard" mas estejam avisados, existem dois "Lizards". Independente da escolha o resultado é satisfatório, o dedo (e as duas mãos) do Fripp está lá, creio que agora o disco é "listenable".
Lançado em Dezembro de 1970
Lado A
1) Cirkus (including the entry of the chamaleons)
2) Indoor Games
3) Happy Family
4) Lady of the Dancing Water
Lado B
1) Lizard
a) Prince Rupert Awakes
b) Bolero (the Peacock's Tale)
c)The battle of Glass Tears
i. Dawn Song
ii. Last Skirmisch
iii. Prince Rupert's Lament
d) Big Top