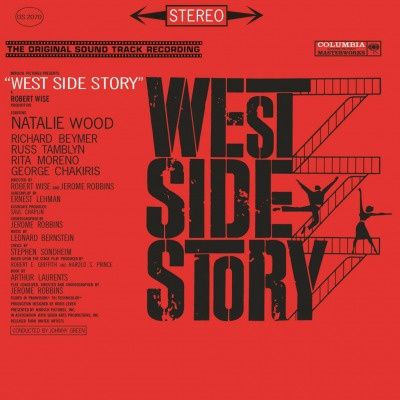 Musicais "da Broadway" sempre foram uma expressão artística característica da cultura Nova Iorquina e, de certa forma, sempre foram uma vitrine das aspirações e sonhos do "american way of life". A primeira geração baby boomer mudou um pouco o enfoque e a crítica (ou realidade) social surgiu de forma quase agressiva no musical "West Side Story". Se a sociedade americana se revolvia com o problema racial entre brancos e negros o que foi aquela invasão (legal) de hispânicos vindos especialmente de Porto Rico? Como era de se esperar os imigrantes se guetizaram e passaram a ser uma nova "classe" pois não eram nem brancos nem negros. Usar o argumento de "Romeu e Julieta" foi uma solução perfeita para que esse musical surgisse, primeiramente no palco e depois no cinema. A última montagem (2008) aconteceu em no Saddler's Wells de Londres (infelizmente a perdi). O album que estou relembrando é a trilha sonora do filme. Meu contato com "WSS" foi aos poucos e sem eu o saber. Em 1964 ganhei do meu pai um toca-discos portátil e três compactos : The Beatles "Long Tall Sally", Rita Pavone "Datemi un martello" e Trini Lopez "America" (esses foram os meus primeiros discos). Pois é, "America" do "West Side Story". Em 1967 o Nice, no seu primeiro LP, criou uma versão de "America" agregando a introdução da sinfonia número 9 "do Novo Mundo" de Dvořák. Em 1968 ou 1969 assisti a versão cinematográfica na TV (que ainda era preto e branco), fiquei muito impressionado com a qualidade de tudo que vi e ouvi. Finalmente na metade da década de 1970 o assisti no cinema (em gloriosos 70mm) o que motivou a compra do disco (importado é claro, numa loja da "Brenno Rossi" no centro de São Paulo). A música é indiscutivelmente maravilhosa, a qualidade de gravação idem (é selo CBS). Além do Trini Lopes e do NICE, o Yes fez um cover de "Something's Coming" em 1969. Acaba de ser reprensado pela MOV em album duplo (agora com a trilha sonora completa), vinyl vermelho. "Compre, compre mais, compre e seja feliz".
Lançado em Dezembro de 2014 (versão completa)
Lado A
1) Overture
2) Prologue
3) Jet Song
4) Something's Coming
Lado B
1) Dance at the gym
2) Maria
3) America
Lado C
1) Tonight
2) Gee officer Krupke !
3) Intermission
4) I feel pretty
5) One hand, one heart
Lado D
1) Quintet
2) The rumble
3) Somewhere
4) Coll
5) A boy like that and I have a love
6) Finale (Somewhere)
7) End credits